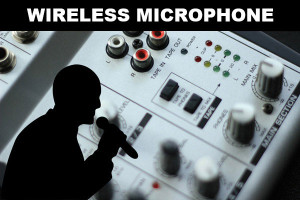 A wireless microphone or a radio microphone does not require a physical cord to get connected. It is an affordable piece of equipment, which magnifies the voice so that everybody can hear it loud and clear. Wireless microphones use the same frequency range as cordless microphones, such as VHF, Gigahertz and UHF. This microphone can be of three types namely handheld, plug-in and bodypack.
Wireless Microphone Test
Recommended Wireless Microphones
Best rated wireless microphone: Sennheiser EW112
The
Sennheiser
EW 112P G3-B omni-directional EW systemwireless microphone is an excellent unit for those involved in field work. Efficient, quick and easy to operate make this unit a first choice for those who need dependable, portable wireless operation whether they are performing journalism duties, working events or recording videos.
Key Features
42MHz bandwidth: 1680 tunable UHF frequencies for interference free reception
Enhanced frequency bank system with up to 12 compatible frequencies
User-friendly menu operation with more control options
Dependability and Durability
The Sennheiser 112P G3 is a high quality, well made and versatile unit. The microphone is almost undetectable while transmitting it's signal synchronously to a portable receiver by way of an infrared interface. The menu is easy to read, and the unit on the whole is easy to operate. This unit is well worth the investment for its host of advanced technologies as well as crystal clear reception.
The Sennheiser EW 112P G3-B omni-directional wireless microphone, is a sturdy and very durable unit. This model is encased within a full metal housing for both transmitter and receiver which makes certain it can withstand rigorous use. The Sennheiser has a frequency range of 516 to 558 MHz, and a 42 MHz bandwidth with 1680 tunable UHF frequencies, and an omni-directional pick up pattern. All this makes for crystal clear reception that is free from interference.
Contacts are available on the Sennheiser for recharging BA 2015 accupack directly in the receiver or transmitter. The user also has access to an auto lock function to keep important settings in place, as well as a programmable mute function. AF sensitivity: 20mV/Pa, Transducer; Microphone type: elektret,RF output power: 30 mW. This unit offers great audio quality and volume whether in the country or bustling metro environments.
The Sennheiser EW 112P G3-Buses a wireless synchronization of transmitters by way of an infrared interface, and the quality of sound is guaranteed via an HDX compander. If you are out in the field conducting interviews or investigations which require a low key appearance, you'll be happy to know that this unit comes with an almost invisible clip. Both the transmitter and receiver are easy to handle, use, lightweight and strong. Just perfect for individuals who have no time or inclination to pamper their gear.
The Sennheiser EW 112P G3-B Omni-Directional EW System Wireless Microphonecomes complete with a 1 EK 100 G3 diversity receiver, 1 SK 100 G3 bodypack transmitter, 1 ME 2 clip on microphone, 1 CL 1 jack cable, 1 CL 100 XLR cable, 1 CA 2 camera adaptor and 4 AA batteries.
Summary of Sennheiser EW 112P
The Sennheiser EW 112P G3-Bis a great choice for individuals who need a professional, high quality device to perform in a dependable manner. Whether you are involved in security, event coordination, media or journalism this unit is more than capable of delivering high quality transmissions and reception. You'll find the ease in adjusting the microphone sensitivity works well in noisy environments. This is a solidly constructed unit that is tough enough to handle field work, an excellent wireless microphone for the investment involved.
Alternative wireless Microphone: Sony UWVP1
The UWP-V1 wireless microphone by Sony is a powerful unit which performs exceptionally well in meetings, conferences, during interview sessions or outdoor events. This is a solidly built unit that benefits greatly from Sony's extensive knowledge regarding technology and innovation.
Key Features
Mic and line input switch
UHF synthesized frequencies
Space diversity receiver
The Sony UWP-V1 Wireless lavalier ENG Microphone System creates perfect audio. You'll get access to a long range of at least 100 feet or more. No static, no fuzz and no annoying distortions make this model perfect for its intended use. With its components encased in a durable metal housing it is built to handle the tough tasks. Powerful and user friendly, with buttons that are simply to use and the menu interface is simple to navigate.
This unit comes with a camera mountable receiver via a shoe mount adapter, space diversity reception, a mic/line switchable input located at the transmitter and a PLL-synthesized tuning system. Space diversity works to steady the reception and decrease RF interference by concentrating on the strongest signal. Also, to add to the its reception power, the antennas can be pivoted toward the source. Carrier frequencies 638-662 MHz, and frequency response 40Hz-18kHz.
The LCD display screen works for both the transmitter and receiver, and keeps you informed of the channel, frequency, battery life, RF input level, audio output status and operating time. The Lavalier receiver is powered by 2 AA batteries. Depending on the battery brand, operating life can be expected to last up to 8 hours.
The UWP-V1's transmitter has 188 UHF frequencies and also uses 2 AA batteries for power. The omni-directional lavalier microphone ensures that the user will have high quality power needed for dependable service for whatever activity you are involved in. As can be seen, the Sony UWP-V1 performs well in both indoor and outdoor applications. Indoor, the user can choose 5mW output power. For outdoor events, 30mW output power is available.
The Sony UWP-V1 comes complete with a UTX-B2V bodypack transmitter, Omni-directional Lavalier Microphone, 1 x windscreen, Microphone clip, Belt clip (1 for transmitter, 1 for receiver), Shoe mount adapter, 1/8″ (3.5mm) mini to mini output cable, 1/8″ (3.5mm) mini to XLR output cable, and is covered by a 1 year manufacturers warranty. Product dimensions:13.2 x 11.4 x 3.1 inches.
Summary of Sony UWVP1 Wireless Microphone
Sony has an extensive background in creating excellence in this technology. The buttons are user friendly and the menus are easy to navigate. This is aa dependable wireless lapel microphone that will work wonders for individuals who need a bit of stealth for certain projects, or simply to wear during work without looking conspicuous. Whether you are involved in coordinating events, managing security, work in journalism or simply for your own projects, the Sony UWP-V1 wireless microphone is guaranteed to provide you with top notch performance at a competitive price.
Wireless Microphone System Samson Concert 99
Ability to operate over 80 channels across 24 MHz
Packed with an AC adapter that protects the mice from blowing during charging
Connects up to 8 independent band using the using separate signals
Easy and quick to set up
The Wireless Microphone is a technology of wireless communication between the speakers without having a multiple connection for the public address system. This has simplified how connection is done and also enhanced a wide range use of multiple speakers to address a great congregation and crowd of people. It has no effect and much more improves the sound when correctly connected to give an amazing outcome. Control is easy with the amplifiers improving and helping adjust the required sound.
Features
The Wireless Microphone is a frequency agile being able to quickly convert them into short phase for audibility. It gives the connection a more reliable way to communicate. Whether on an open or closed venue, the sound is desirable and not harming.
It is able to operate over 80 channels across 24 MHz. It is swift and thus capturing majority of speakers' compatibility. As a wireless device the Wireless Microphone System Samson Concert 99 eases the connection more especially across majority of public addresses to select the best suit in your area. It is packed with an AC adapter that protects the mice from blowing during charging. It also it limits overcharging. Its Adapter helps in converting the frequency and control from the amplifiers.
The Wireless Microphone System Samson connects up to 8 independent band using the using separate signals and thus cannot be conflicting while addressing. This shows the level of wireless connection support it always has over the other types of connection around the speakers.
It is portable with simple set ups to make the device light and those working with it can maneuvers from front to back without causing a sound failure.
Conclusion of Samson Concert 99 Wireless Microphone System
With this type of wireless microphone, interconnecting between the public systems is made easy and also it uses less power to connect through. With this type it reduces the wire work and also it is easy to access the technical failure at any given time.
How does a wireless microphone work?
In wireless systems, the audio signals of the microphone are converted into radio signals, which are directed by a transmitter via air to the receiver and then via sound system. Each wireless system has a definite amount of compatible channels that can be utilized at the same time. When operating only a particular system in a single location, one can select any wireless system available. Therefore, before selecting a wireless system one should consider the number of systems that can be added in the future.
Components of a wireless microphone
A wireless microphone consists of the following components, such as:
Transmitter: A transmitter can be of two types:
Handheld Transmitter: The functions are confined in a single unit as it incorporates the transmitter in the microphone handle.
Bodypack Transmitter: To send audio signals, headworn, lavalier and instrument microphones, along with guitar cables, are plugged into a bodypack transmitter.
Mic/Cable: This can be of various types, such as Headworn vocal microphones, Lavalier vocal microphones, Clip-on instrument microphones, etc.
Receiver: Signals directed from a bodypack transmitter or a handheld microphone or is processed by the wireless receivers and is converted into an electronic signal. Through a cable to the guitar amp or the mixer, the signal is sent.
What is special about a wireless microphone?
This type of microphone is special in a number of ways. This device offers perfect freedom of movement to the speaker or performer. Since there are no wires, the look that it creates for the audience is clean as the stage is not cluttered with wires. Lesser the cables better it is. This also helps in preventing cable trip hazards.
Moreover, there are no issues of cord replacement unlike in wired microphones with low quality cables. Another issue is cable getting disconnected during a performance resulting in embarrassing situations.
A special thing about handheld microphones is that the performer or speaker can easily alter the distance between mouth and microphone that can change the volume as well. Using this, one can create several amazing audio effects as per the need.
Who needs a wireless microphone?
This device is usually used by performers, artists, fitness instructors, musicians, religious preachers, corporate people, trainers, news reporters and so on. Thus, you will spot them at:
Corporate, religious and political events
Musical and theatrical shows
DJ parties
School and other functions
Music and exercise studios
Media events
If you want to magnify your voice and to make it clearer and louder for the audience, choose the latest wireless microphone!