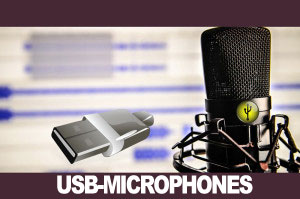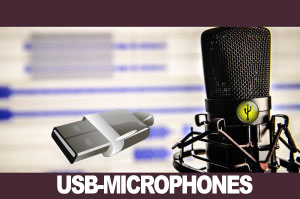 In our USB microphone test we provide you with information about the best and most interesting USB microphones for use with a computer.
On the one hand we recommend the Rode NTUSB for users with high standards. It has everything a professional microphone user can ask for.
An alternative usb microphone is the Blue Yeti Microphone. If you are looking for a smat deal, you should have an eye on the Samson Meteor Mic. It's a perfect fit for advanced amateurs and ambitous hobby users looking for an excellent product for less than 100 Euros.
Below you can compare the features of different USB microphones which are very popular.

Best USB Microphone?
If you ask about the best usb microphone there will be a lot of diffent answers. For shure you will find the following two microphones on a top list for USB Microphones with a price till 200 dollars.
High quality studio microphone
Includes Tripod stand, pop shield and ring mount
Multiple pattern selection
zero-latency headphone output
high quality A-D converter
Top:

Rode

NT-

USB Microphone

One hell of a usb microphone in our microphone test was the Rode NTUSB. The condenser microphone boasts a high quality and low inherent noise. By using the Rode NTUSB crystal clear studio quality voice recordings (e.g. podcasts and vocals) are possible. When it comes to quality, the Rode NTUSB can easily keep up with regular three-pin XLR connector or regular jack condenser microphone. If you're working with a computer and are looking for high quality voice recordings you can order this microphone without regrets.

Alternative: Blue Yeti USB Microphone
The Blue Yeti USB Microphone is built for usage in recording vocals or musical instruments on a computer as well as for podcasting, voiceovers or conference calls. It has tri-capsule array which translates to three condenser capsules that means it has cardioid, bidirectional, omnidirectional, and stereo capabilities.
The Blue Yeti is a very popular product and that has a lot of satisfied customers. You get great features for a reasonable price. That makes the Blue Yeti USB Microphone a good choise.
Budget

USB

m

icrophone

:

Samson

Meteorite
Our USB microphone test also yielded a reasonably priced alternative to the professional Rode NTUSB USB microphone: the  Samson Meteorite USB Microphone. Its nostalgic 50s design and high qualitiy silver coating makes it a classic and awesome looking alternative. The diaphragm microphone boasts a membrane diameter of 14mm and a headphone output with volume control.
Amateur and hobby users as well as ambitous podcasters will get everything they need, while paying 100 Euros less than they would have to spend on our test winner (see above Rode NTUSB).
Review
What is a

USB microphone

?
The main feature of a USB microphone is, of course, the USB port which allows you to connect the mic to any computer. You won't need a sound card or a mini–jack input. Whether you're working with a PC or a Mac, the USB microphone is detected and installed by the computer immediately connecting it to the device. Whenever there is the need for additional software, it will usually be included on a disc that comes with the microphone. 
The appearance of USB microphones doesn't differ from traditional studio microphones. Most USB microphones are equipped with a large diaphragm, which reflects the full spectrum of sounds. Since USB microphones are designed for use with a computer, the processing might be inferior in some cases. Instead of expensive and heavy metal material the more economical plastic version is used quite frequently.
For what purposes do

you use

a USB microphone

?
In contrast to microphones with a three-pin XLR connector or a regular jack, USB microphones are directly plugged into a PC or laptop with an USB port. The biggest advantage if you're looking for a personal computer microphone: you won't need any additional equipment such as a mixer or amplifier. Since a computer usually has multiple USB ports, you can use a USB microphone without having to have an extra sound card. You simply connect the USB microphone and in most cases the system will detect it automatically and installs the drivers.
With USB recordings you don't have to worry about about cable or plug noises because the signal is digitized immediately. The acoustic audio signal is directly transformed into a digital signal within the USB microphone. The recording quality can be edited in an external audio recording program. The default setting is 16 bit and 44.1 kHz. This also means, that a direct processing of the recording with a corresponding audio editing software is possible. A good and affordable audio recording software is Audacity.
USB microphones are most frequently used among hobby and amateur users, e.g. for recording podcasts or vocals at your private home computer. Another possible use is the dubbing of videos, so called "Let's Play videos" or simply for communication via Skype or Facetime. Of course there are high quality models as well among PC-microphones, which are just as good as professional studio microphones. This allows you produce high-quality recordings of vocals and instruments as well.

Whether or not you need additional equipment when using your USB microphone depends on the intended purpose. For voice recordings a headphone jack is useful so that you can listen to the background music while recording – ideally without any delay. A volume control button (or knob) with which you can adjust the volume levels of your earphones can be useful as well. If the mic comes with a shockmount, a popscreen or a microphone stand you can save additional money for equipment.